This week I'd like to share with you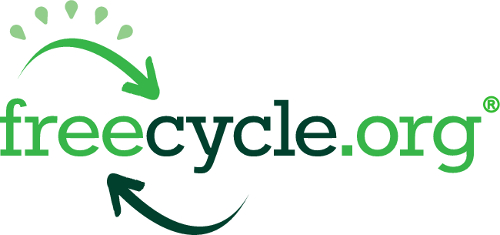 Ever hear of it? The nuts and bolts behind FREECYCLE is to keep usable items out of our landfills. It is FREE to join and is an e-mail moderated based group with policies and procedures.
How does it work? Let's say I have moving boxes that are in good shape to use again. Instead of tossing them in the recycling bin, I would post them to the group. If someone is interested they will e-mail me direct. They would let me know when they can pick them up and I would let them know where I will put them for them to come pick up. Usually the front porch is a common spot. Although the concept of this group is spectacular already, another plus is that these items that you no longer want will be picked up. Let me say that again...these items will be picked up - most of the time the same day!
This group works both ways. It's a Give and Take. Let's say there is something that I WANT. I am currently looking for a desk - a decent usable one but right now I don't want to go out and buy one. So I posted my WANT to the group. If someone has a desk that they no longer want they will contact me and let me know that I can have it.
I have belonged to our cities group for a few years now. The most common things that seem to be posted are clothes - all sizes, kitchen items, appliances, kids toys, baby items, moving boxes, furniture and every once in a while computers and TV's.
So the next time you are cleaning out your garage, purging your closets, or have left over items from a garage sale, don't through it away...think of FREECYCLE!